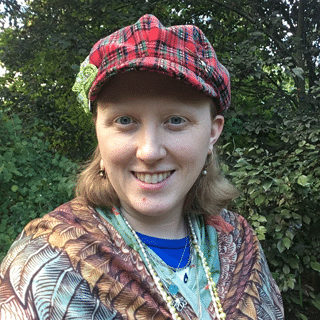 "Stand tall like Worf; speak precisely like Data; and, never do anything Picard would not approve." — Mary, age 11
Mary E. Lowd is a prolific science-fiction and furry writer in Oregon. She lives in a crashed spaceship, disguised as a house and hidden behind a rose garden, with an extensive menagerie of animals, some real and some imaginary.
Her fiction tends to feature spaceships and talking animals.  She's had 
more than 170 short stories and a half dozen novels published, always with more on the way. She has been nominated for the Ursa Major Awards more than any other individual, and her work has won two Ursa Major Awards, four Leo Literary Awards, and two Cóyotl Awards.
Mary was the co-chair of the Wordos critique group for five years and the chair of the Cóyotl Awards for eight years. She edited five volumes of FurPlanet's ROAR anthology series, and she is the editor and founder of the furry e-zine Zooscape. In 2019, she was the Guest of Honor at both Furvana and Midwest FurFest.
You can email Mary at the spoonfree version of:  eponymousspoon@marylowd.spooncom.